FIRE & EMERGENCY SERVICES
MIZORAM : AIZAWL
https://fireservice.mizoram.gov.in/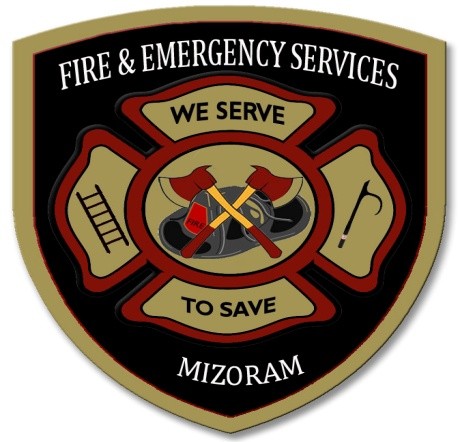 Headquarters Location : Hunthar Veng, Aizawl
Year of Establishment : 1972
Email address : firemizo@gmail.com
MOTTO : 'WE SERVE TO SAVE'
INTRODUCTION
Fire Service in Mizoram emerged from a humble beginning as Aizawl Fire Brigade under Mizoram police control since 1st September 1972. There was no organised Fire Service in Mizoram till 1992 when it was reorganised , upgraded and named as Mizoram Fire Services Organisation w.e.f. 17th August 1992 headed by Superintendent of Police as one of the units of Mizoram Police. It was subsequently renamed as Mizoram Fire & Emergency Services in 2004 to encompass more areas of responsibility of not only Fire fighting alone but also other emergency services.
With the creation of the post of Director, it was delinked from Mizoram Police and established as a separate Directorate under Home Department , Govt of Mizoram since 20th March 2008 having its own governing Acts and Rules. The directorate set up is divided into Administrative Wing and Technical Wing under the direct administrative and operational control of the Director as head of the Department.
Headquarters Building
Location: Hunthar Veng, Aizawl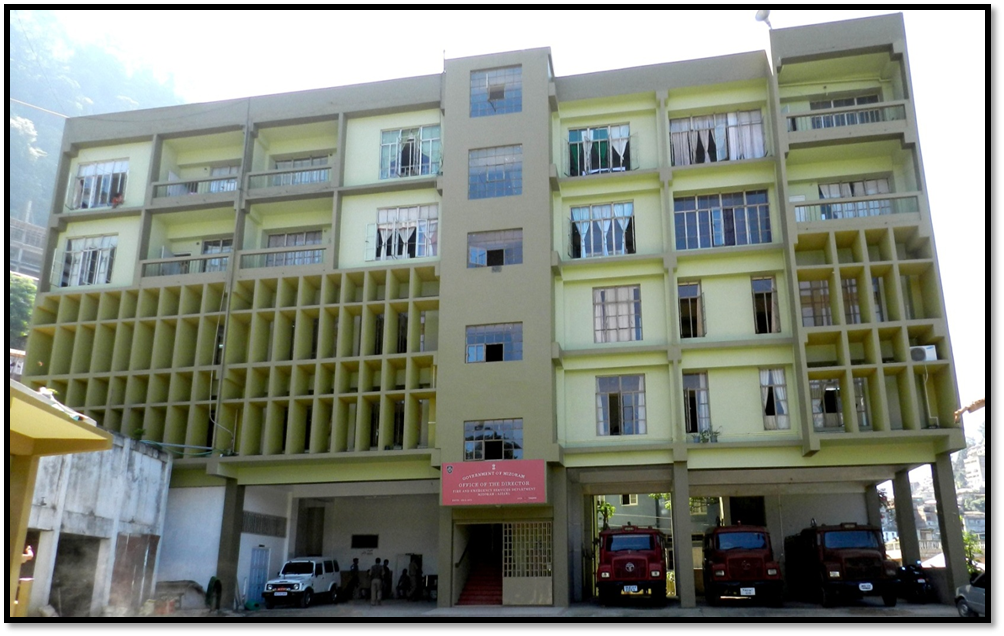 VISION AND MISSION :
To increase and raise the level of preventive measures and preparedness so as to minimize loss of life and property from fire hazards as well as from other emergencies and to inculcate fire safety awareness among the general public.
MISSION:
Enhancing the capacity in terms of manpower and equipments to be able to realize the Vision.

Strengthening of Fire & Emergency Services as a Service Provider for reaching help to the people in distress, for fire hazards and other emergency purposes in shorter time period.

Ensuring community and public safety and enriching the members of the profession through education and training for prevention and mitigation of fire hazards.

To facilitate improvement of public safety through awareness campaigns to the general public.

To establish Fire stations in all civil sub-divisions and to reduce Fire Response time to 5 – 15 minutes in the state.
CITIZENS CHARTER
MAIN SERVICES
Issue of provisional fire NOC and final fire NOC.

Service to people for saving life and property and other emergencies by keeping equipments and manpower in Fire stations in readiness round the clock

Rescuing /helping people in distress during other disasters by all available means &ways .

Prevention of domestic fire outbreaks with all available equipments and education to general public, school children etc. and by keeping equipments/ Fire tenders in readiness in some vulnerable points/ place / streets.

Launching Fire Safety Awareness campaigns to general public by displaying banners, posters etc and distribution of pamphlets, booklets, leaflets etc.

Fire Safety Awareness Campaigns through electronic and print media, radio and television talk show, public concert etc.

Conducting Fire & Evacuation drills / Mock Drills in Schools, Hospitals, Collages etc as a part of Fire & Emergency safety Awareness campaigns.

Conducting demonstration with Fire engines, Fire extinguisher etc to public as part of Awareness Campaigns.

Providing standby protection duty during National days, VVIP/VIP visits, Govt and public functions and gathering.

Checking/ Audit of Fire fighting equipments installed at govt. and private buildings, public places etc.
ORGANISATION CHART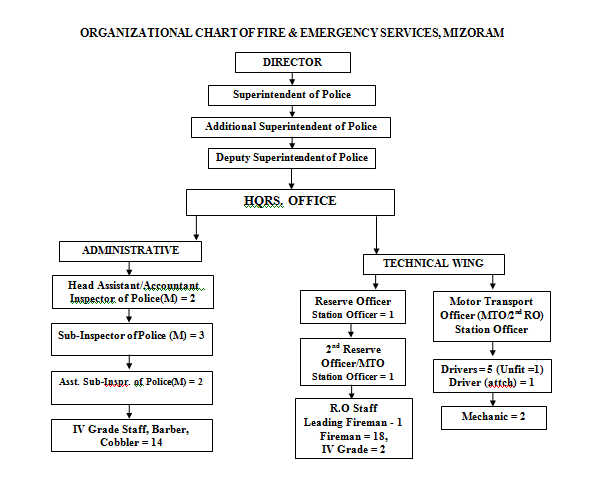 List of Officers of F&ES Hqrs, Mizoram, Aizawl
Sl.

No

Name

Designation

Ph.No & Email

1

C. Lalthanmawia

Director

9436146931

2

Francis Lalnuntluanga Ralte

Superintendent of Police

7005608991

francis.ralteyahoo.com

3

F Lalchhuanawma

Addl. Superintendent of Police

7005071402

4

Robert Guite

Dy. Superintendent of Police

9862576547

5

Lalremtluanga Varte

Station Officer/RO

9862563794

6

Lalremmawia

Station Officer/MTO

9436146265

6

B Lalrohlui

Inspector(M)/HA

8794715844

7

R Laldinliani

Inspector(M)/HA

7005834887
SANCTIONED STRENGTH, PRESENT STRENGTH AND VACANCY POST UNDER F&ES
| | | | | |
| --- | --- | --- | --- | --- |
| Sl No | NAME OF POST | SANCTION STRENGTH | PRESENT STRENGTH | VACANCY |
| 1 | Director | 1 | 1 | Nil |
| 2 | SP | 1 | 1 | Nil |
| 3 | Addl SP | 1 | 1 | Nil |
| 4 | Dy.SP | 1 | 1 | Nil |
| 5 | Inspector (M) | 2 | 2 | Nil |
| 6 | SI(M) | 3 | 3 | Nil |
| 7 | ASI(M) | 8 | 2 | 6 |
| 8 | Steno Grade – II | 1 | 1 | Nil |
| 9 | Station Officer | 7 | 7 | Nil |
| 10 | Sub Officer | 6 | 3 | 3 |
| 11 | Leading Fireman | 20 | 17 | 3 |
| 12 | Fireman | 104 | 95 | 9 |
| 13 | Driver | 40 | 34 | 6 |
| 14 | Mechanic | 4 | 2 | 2 |
| 15 | IV Grade(Group D) | 23 | 17 | 6 |
| | TOTAL | 222 | 187 | 35 |
GRIEVANCE REDRESSAL MECHANISM
Sl.

No.

Name of the responsible officer to handle public grievance in the department/office

Contact number

Email

Time limit for redress of grievances

1

Director

0389-2341203

1 – 2 weeks

2

Supdt. of Police, F&ES

(SPIO)

0389-2341066

1 – 2 weeks

3

Addl. Supdt of Police, F&ES

(ASPIO)

0389-23406238

1 – 2 weeks
CONTACT NUMBERS :
Director:
0389-2341203
SP : 0389-2341066
Addl. SP :
0389-234623
Dy.SP :
0389-2306299
E-mail :
FIRE STATIONS
Aizawl FS
0389-2322384,
9436730440
112(ERSS)
Serchhip FS
03838-222135,
8119884154
Mamit FS
0389-2565077,
7928026822
Champhai FS
03831-234026,
7628029288
Kolasib FS
03837-222322,
03837-220101,
7627966100
Vairengte FS
9366651918
Khatla FS -101,
0389-2336406,
9436730450
112(ERSS)
Kulikawn FS
0389-2312000,
7628053799
112(ERSS)
ITI FS
9366984684
112(ERSS)
Bawngkawn FS
9436727944
112(ERSS)
Lunglei FS
0372-2324101,
0372-2325366,
8794889383
Siaha FS
03835-223085,
9612230834
Lawngtlai FS
03835-232801,
9366593622
Tlabung FS
03834-222189